Introduction to the Certification Program
Customers and consultants frequently request that vendor trained and certified Designers and Installers are used on projects. It is also becoming more common that a higher percentage of installers on site have attended recognized training with a method of validation and certification.
Since June 2002 a globally recognized range of ID badges have been issued within the CommScope training program and compliments the certification program. The qualifications and certifications are also linked directly to the CommScope Partner Program and visible via the Partner Locator on www.CommScope.com.
Badging
For CommScope Infrastructure Partners (SYSTIMAX/Netconnect/Uniprise), a photo ID badge is provided for relevant training courses via the Infrastructure Academy App and in your training area of the website.
If you are a member of a CommScope Infrastructure Partner company (SYSTIMAX/Netconnect/Uniprise), for those courses that are eligible to be added to one of the CommScope ID badge schemes, a student will be provided with a digital badge once a course is completed. This will be available from the Infrastructure Academy App, and also in the student's training account on the academy website.
Once you have completed your course, log into the Infrastructure Academy app or website, go to the Courses and Badges tab and find your badge. Note badges will only be made available if you have a photo of yourself on your account profile.
About out Apps
Certification
Certification is provided for all successfully completed courses. Self print certificates are issued for SYSTIMAX, Uniprise, Wireless and Broadband courses.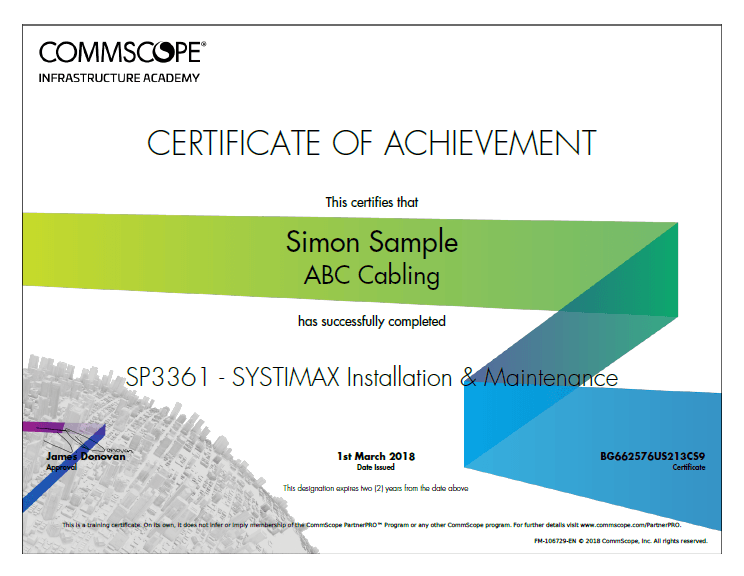 Users are able to print the full version of their certificate directly from your 'My Training' area, after they have completed the course. The self print certificates replace hard copy certificates sent in the post. Remember therefore to print your own certificate after you have completed your course.
On its own, a certificate does not infer or imply membership of the CommScope PartnerPRO™ Program or any other CommScope program. For further details visit www.commscope.com/PartnerPRO.
With over 70 courses, 15,000 online courses are completed each year with the CommScope Infrastructure Academy.
Students in over 140 countries across the globe, speaking over 40 languages and accessing using a multitude of devices. The CommScope Academy truly offers training to anyone, anywhere.